For nonprofit organizations, grants can be a much-needed lifeline. Grants can provide funding for programs and projects that support their mission and help them achieve their goals. Managing grants, however, can be daunting, with many challenges that organizations face.
In this article, we'll explore the main challenges of nonprofits managing grants and how the monday.com grant management solution can help these organizations solve these challenges for free!
Challenges of Nonprofits Managing Grants
1. Managing Multiple Grants: Nonprofits often manage multiple grants from various funders, each with different requirements, deadlines, and reporting processes. Keeping track of these requirements can be time-consuming and overwhelming, leading to errors and missed opportunities.
2. Collaboration and Communication: Grant management often involves multiple team members, with different roles and responsibilities. Communication and collaboration can be challenging, especially when team members work remotely or in different locations.
3. Documentation Management: Grant applications require a lot of documentation, and it can be hard to keep track of all the required documents, their deadlines, and their storage locations. Missing or incomplete documentation can lead to wasted time and missed opportunities.
4. Reporting and Compliance: Nonprofits must comply with the rules and regulations of their funders and provide regular reports on the use of funds, progress on projects, and impacts on beneficiaries. Reporting can be complex, time-consuming, and require a significant amount of data management.
How monday.com's Grant Management Solution Can Help
monday.com's grant management solution offers a comprehensive and easy-to-use platform for nonprofit organizations to manage their grants effectively. Here are some of the benefits of using monday.com for grant management:
1. Monitor Applications from Start to Finish
With monday.com, you can track all your grant applications from start to finish. You can capture
documentation for applications, get automatic reminders before submission dates, track grants awarded and payments made. The solution also allows you to visualize everything in the view that makes sense to you. This helps you stay organized and informed throughout the grant management process.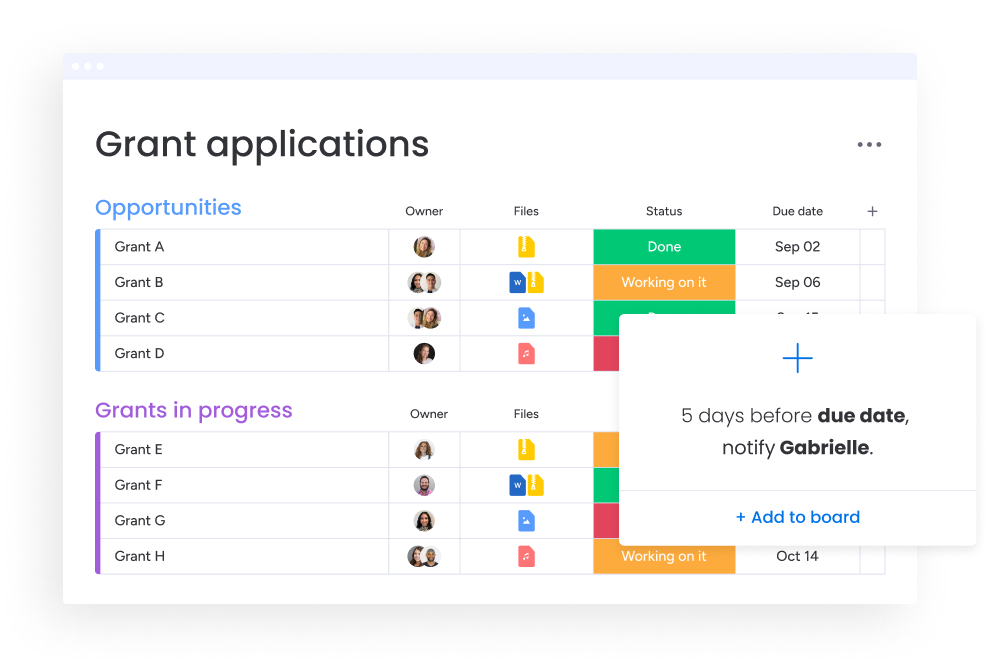 2. See Both High-level and Detailed Breakdowns
monday.com provides you with complete visibility of the data you need to keep track of in the view that works for you – dashboards, calendars, tables, and more. You can double-click into every grant application process to see a full picture of everything that's been done
and what's left to do. With this granular-level view, you can easily monitor and manage every aspect of your grant application process.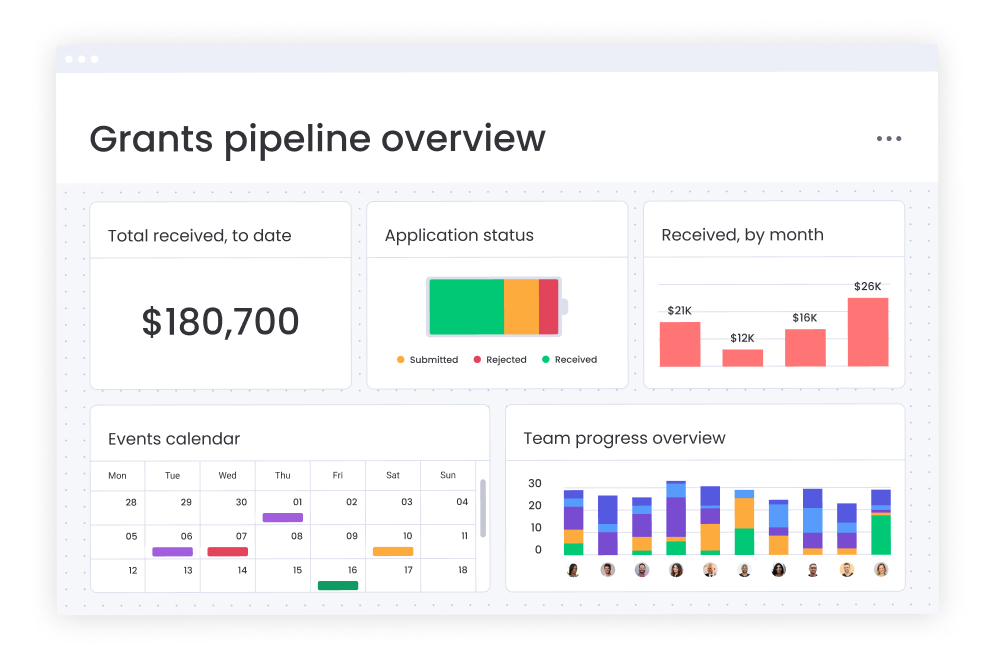 3. Centralize Your Communication
monday.com enables you to centralize your communication and collaborate on grant applications with tagging and update features on specific tasks, so communication stays in context. Use built-in docs and file uploads to keep everything in the same place, making it easy for your team to collaborate effectively, even when working remotely.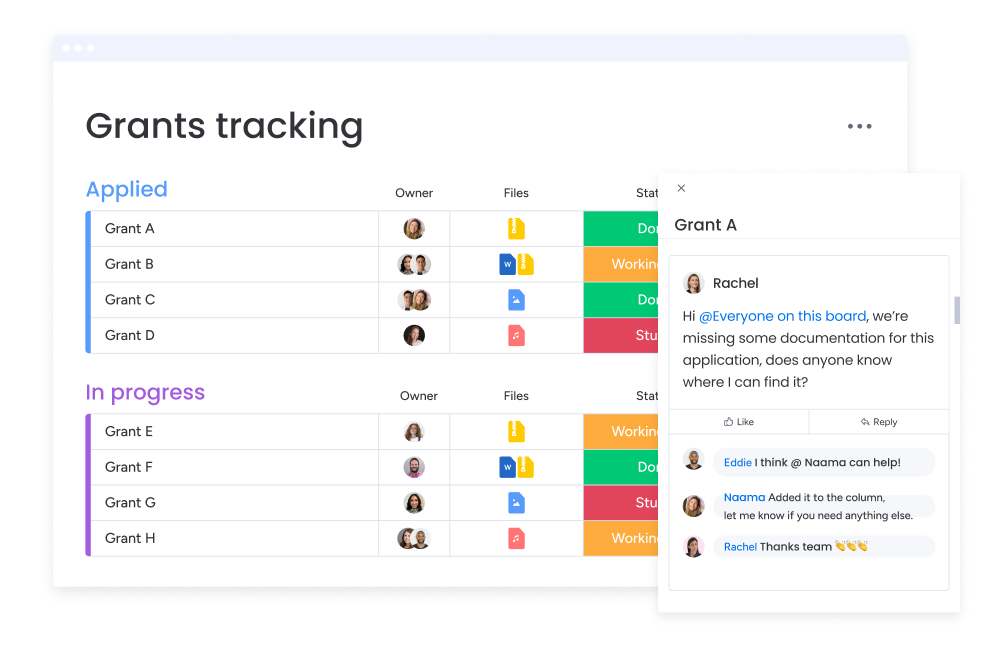 4. Instantly Generate Reports
monday.com's grant management solution offers easy-to-create custom reports that show the full picture of where everything stands for the month, year, or any timeline. This feature saves nonprofits time and presents data quickly that they need to make informed decisions. Furthermore, nonprofits can easily share these reports with their board and team members, which helps stakeholders get a clearer understanding of the progress made in grant management.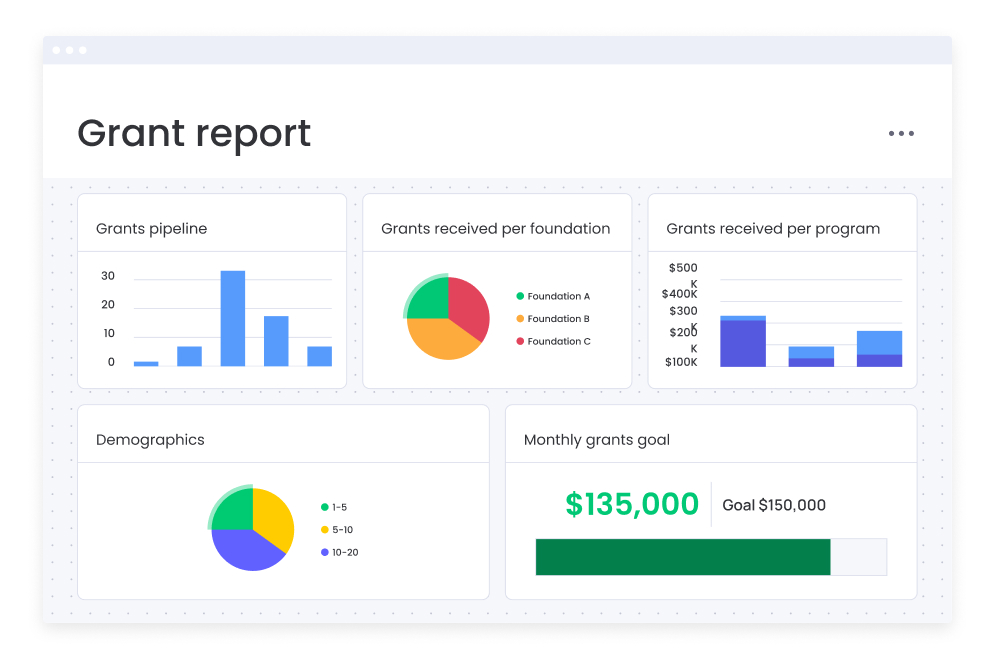 Join Over 20 Thousand Nonprofits Already Using The Nonprofit Plan
monday.com offers a free nonprofit plan for organizations that use our software to support their mission. With more than 20 thousand nonprofits already using our platform, we're well-positioned to help you manage your grants effectively, saving time and improving your results.
In conclusion, grant management can be a challenging process for nonprofit organizations. With multiple grants, communication, documentation, reporting, and compliance requirements, it's easy to get overwhelmed. However, with monday.com's grant management solution, nonprofits can overcome these challenges and manage their grants effectively. From monitoring applications to collaboration and communication, documentation management, and reporting, monday.com provides a comprehensive solution that is easy to use and effective. With monday.com, nonprofits can focus on their mission and achieve their goals. Get started for free with monday.com today and see how it can help you achieve your mission!