We've shared some of the best nonprofit volunteer management software solutions out there.
But what if you want a closer look at one of 'em?
That's what we're sharing in this article about VolunteerLocal! We're showcasing why it's one of the most popular volunteer signup platforms available.
*PLEASE NOTE: Nonprofit-Apps is not sponsored or endorsed by VolunteerLocal, nor do we receive any compensation if you purchase on their site. We are simply sharing as much information as possible to help you make the best decision for your nonprofit volunteer management software.*
What is VolunteerLocal?
VolunteerLocal is one of the most popular nonprofit volunteer management software solutions on the market. And we've covered it briefly in our article on 5 of the best volunteer management software for your organization!
Many nonprofits need volunteers to keep their organizations running smoothly! But managing volunteers might be a little different than managing salary-paid staff members.
That's what's so great about VolunteerLocal! Their website boasts a user-friendly platform that helps you do all the things when it comes to recruiting volunteers, signing them up for shifts, and communicating with them effectively.
So, we're doing a deeper dive into the platform so you can see if it's the best option for your organization!

How Does this Nonprofit Volunteer Management Software Work?
VolunteerLocal is an all-in-one platform that helps you organize your volunteers for your nonprofit.
With your account, you can recruit volunteers and schedule them quickly so any shifts are filled. And if you want to make sure a particular group signs up for a job or shift, they've got you covered there! You can password protect jobs or shifts to make sure groups have first dibs. That's perfect if your organization works with charity partners or corporate teams.
And when the time comes for volunteers to donate their time, this nonprofit volunteer management software offers a mobile, on-site check-in and check-out tool. You can monitor their hours from it, too.
Now, you already know we love our data reporting at Nonprofit-Apps. It's how we can make the best, educated decisions for our nonprofits! VolunteerLocal knows how important it is, too. They've integrated real-time reporting and volunteer data collection so you can tailor your nonprofit as needed.
Finally, one of the best things about this nonprofit volunteer management software is its communication capabilities. Send out emails or texts to your volunteers at any time. You can even segment your communications so only certain groups receive them. It makes keeping in touch with the lifeblood of your nonprofit so much easier!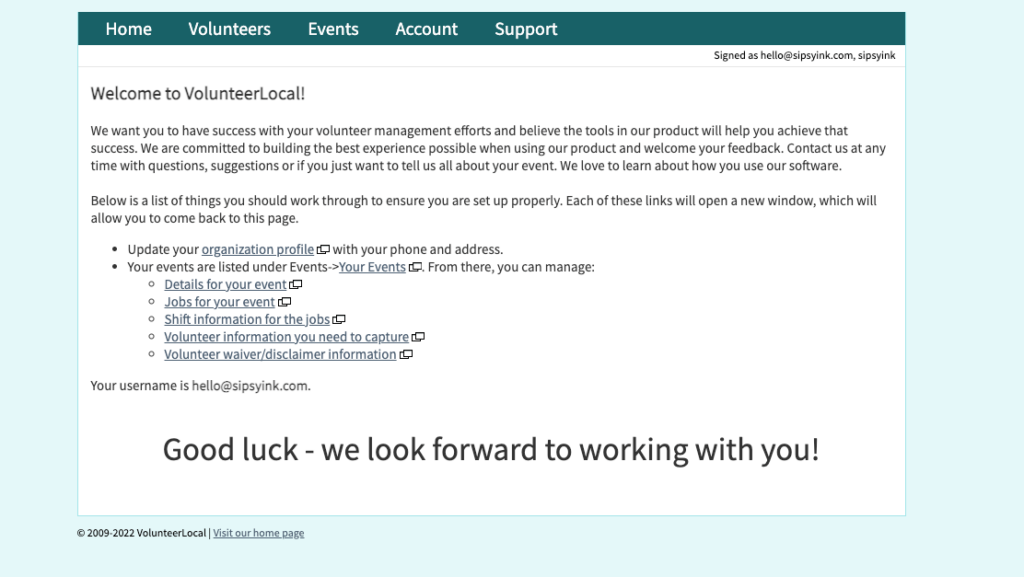 How Much is VolunteerLocal for Nonprofits?
VolunteerLocal has tiered options to support your nonprofit as best as possible. No sense in paying for services you don't need!
It's important to know that this nonprofit volunteer management software is great for those who truly do need volunteers to get a bulk of their tasks done. If your nonprofit only hosts one event per year, and that's all you need volunteers for? It may not be the best option for you.
That's because their entry-level plan is listed at $600 per year. That includes 2 admin users, 500 text messages, plus unlimited signup and scheduling pages, events, jobs, and shifts. And, of course, the volunteer database!
However! If you only need a solid volunteer signup software for one event, VolunteerLocal does have an option for you! For the entry-level plan, you can use it for $200 per event.
If you want to check out everything that's included in the volunteer signup platform's plans, check out their pricing page!
A Look at VolunteerLocal – One of the Most Popular Nonprofit Volunteer Management Software Solutions:
The great news is that before you make any buying decisions, you have two options with VolunteerLocal.
One: you can request a software demo. A representative will schedule a time with you to go over everything about this volunteer signup platform!
Two; you can sign up for a free 14-day trial (with no credit card on file required!).
So, if you want to see for yourself how this platform works, then we suggest trying out those options!
But, we're still here to give you a look at the platform, too.
The Checklist Page:
Once you make your VolunteerLocal account, your web browser navigates to a page welcoming you to the platform. This page also has a checklist of clickable links for things you need to do to make sure everything runs smoothly.
The Dashboard:
The great thing about VolunteerLocal is how simple the dashboard is. There's no fluff or filler. It's straightforward to navigate.
On the dashboard, you'll see your navigation bar. Underneath that, you'll see your name. And it'll also tell you how to get help should you need it.
Underneath your name, there's a section that says "(Your event or program name)." This is for your upcoming event or program your nonprofit is hosting! And this is also what you can customize under the "customize dashboard" button.
So! To start with, they show you a countdown until your event. They show you how many volunteer spots you have filled and how many you still have open. There's also a number that indicates the number of unique volunteers. And you get to see how many volunteers have canceled.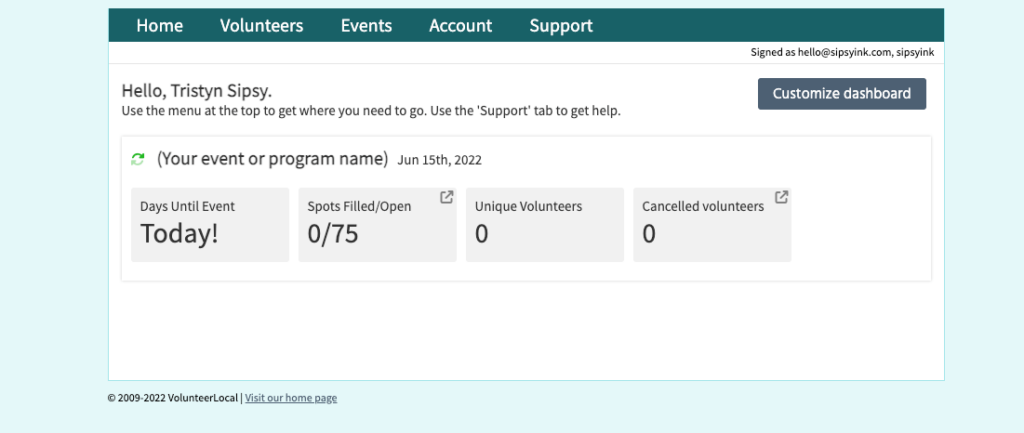 Customize Your Dashboard:
To the right of your name, there's a button that says "Customize dashboard." This is a great tool that lets you prioritize what you see for your events.
They give you plenty of options here, like signup payments, total jobs, total shifts, unassigned applicants, and even shirt sizes.
You can add a "Volunteer Application" to your dashboard, too.
Customizing your dashboard is incredibly simple. Everything on it is drag-and-drop. So if you want to see something on your dashboard, you just quickly drag it into place!
Volunteers:
Here's the bulk of your nonprofit volunteer management software: the volunteers tab!
When you hover over the "Volunteers" tab on the navigation bar, a drop-down menu shows up. You can click on anything that has to do with volunteers. From communications (emails or texts) to reporting and even searching your volunteer database.
Email and Text Communications:
When you click on either the email or text messaging tabs, you're navigated to a page that could not be easier to use.
First, you have the option to start an email or a text from a template. They give you a couple of pre-made templates already. But, if you find yourself copying and pasting the same basic email layout over and over, you can make your own text or email templates!
That'll save you so much time.
From there, you simply use the drop-down to select who the email or text is from. Add in a subject line. Then, either write your email or text from scratch. Or! Customize the template that auto-populates in the message box.
After that, you add the designated recipients. Set any message filters. Decide when to send it (now, later, or save it as a draft). And voila! That's all there is to it!
Reports and Search:
You can search for any volunteer that has signed up for an event (past, present, or even archived events).
And you can pull reports based on events, too. So if you'd like a report based on volunteers who are scanning tickets for an upcoming event, then you can pull it! Just find the name of the program or event your nonprofit is hosting, find the job you're searching for, and bam! You've got a full list of the volunteers and their data for that job.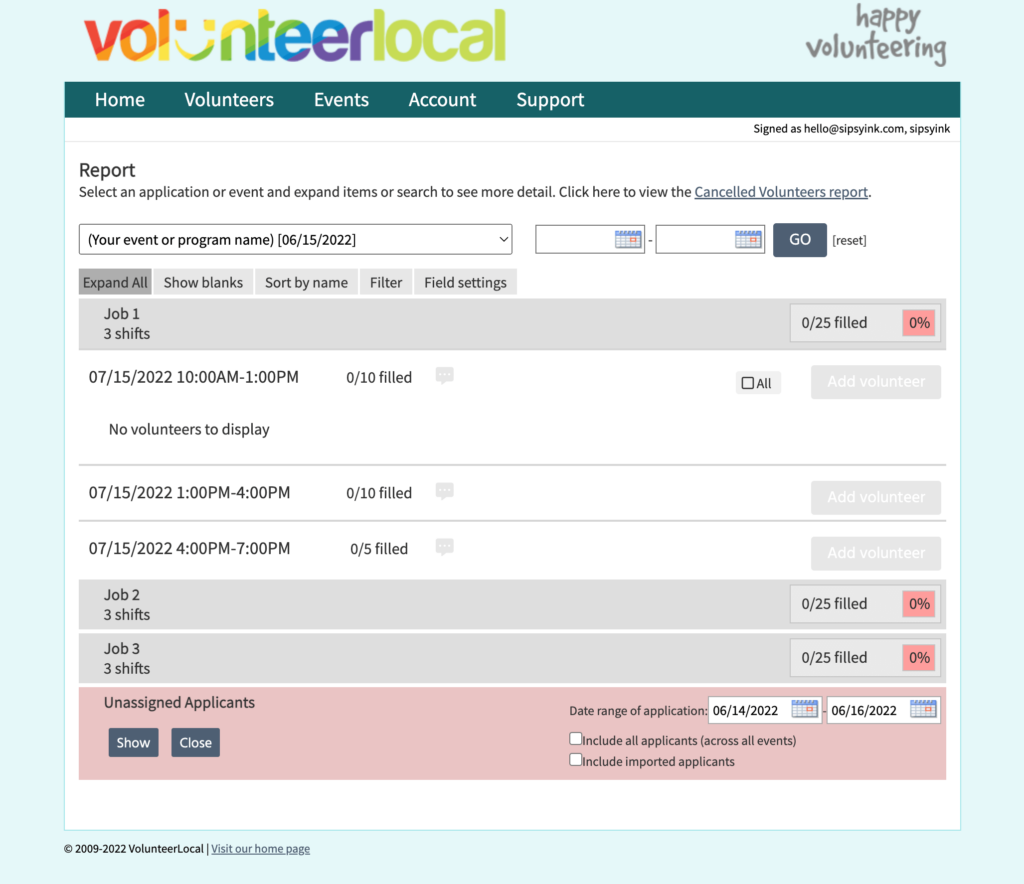 Events:
The events tab on the navigation bar houses your page for all of your events and programs and event volunteer applications. It's also home to the volunteer check-in screen and the check-in kiosk if your plan allows it.
Your Events/Programs:
On this tab, you'll immediately see your landing page URL. This page is how potential volunteers can navigate to your event or program volunteer application.
Your account comes with a "standard," pre-templated volunteer application. But you can always make new ones with specific questions and filters set.
For each event, you can edit the job listings to reflect what you need volunteers for! From there, you can also edit the shifts list to show potential volunteers what times you need filled.
And once an event has passed, you can click the handy "Archive" button underneath it. That'll keep your events page from getting too cluttered!
From our deeper dive into this nonprofit volunteer management software, it's easy to see why VolunteerLocal is one of the most popular out there!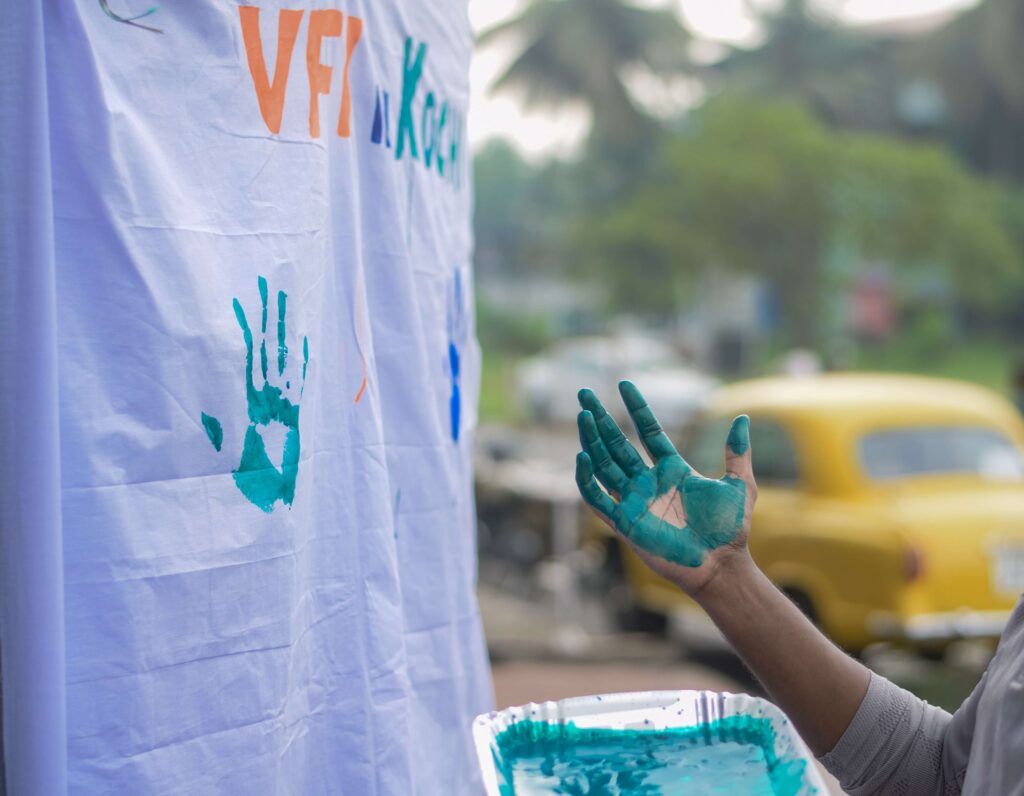 Want more related to this? Check out these posts!
5 of the Best Volunteer Management Software for Nonprofits