We've talked about a few of the best volunteer management software before. And we're continuing the trend with this article!
Let's take a look at another one of the most popular software for volunteer management: Volgistics.
*PLEASE NOTE: Nonprofit-Apps is not affiliated with Volgistics, nor do we receive any compensation if you purchase their software. We are sharing as much information as possible to help you make the most informed decisions for your nonprofit organization."
What is Volgistics?
Volgistics, which describes itself as software for volunteer logistics, is a comprehensive tool to help you do all operational tasks revolving around your volunteers.
This software for volunteer management has worked with over 5,000 nonprofits. And they've helped those organizations manage and track over 6 million volunteers!
It's a web-based software, which is excellent if you or your team work remotely. You won't have to rely on certain computers that have Volgistics downloaded to it.
Instead, you can just navigate to their website and use the login button to get to your account.
And we're taking you on a deeper dive into the tool so you can see why over 5,000 nonprofits trust it!
How Does This Software for Volunteer Management Work for Your Nonprofit?
Volgistics is known as one of the best volunteer management software because it includes just about everything you need to better manage your team of volunteers.
From volunteer recruiting and screening (yep, they help you do screening, too!) to improving communication among your team – this tool lets you do it all. 
You can find potential volunteers and make sure they're a great fit for your nonprofit. Collect and store documents and paperwork for each volunteer. And manage their productivity, shifts, time logged, and more within the volunteer database!
And when you need to keep in touch with them, you can use the built-in messaging feature through the volunteer portal.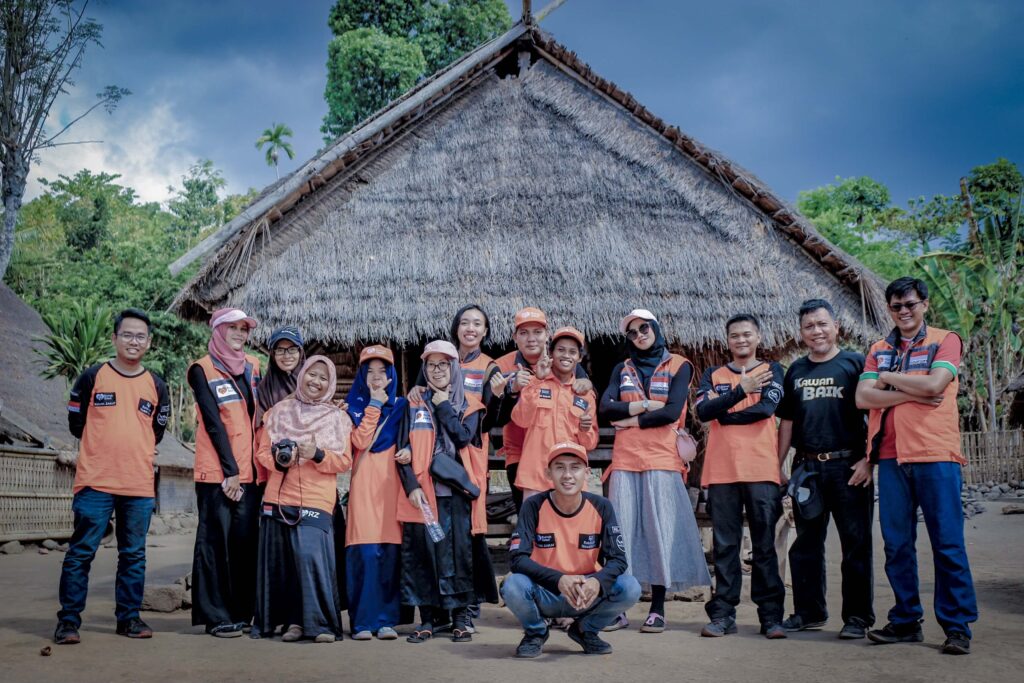 How Much Does It Cost to Use This Software for Volunteer Management?
When it comes to the most affordable volunteer management software, Volgistics definitely ranks as one of them.
The software is priced based on a tiered system that rises with the number of volunteers you want to track. This is awesome because you don't have to pay for something you don't use!
To manage and record 50 volunteers with 2 administrative operators to manage the Volgistics account, plus the add-ons like VicNet, VicTouch, and VicDocs, you're looking at only spending $17 per month.
And the great part about Volgistics is that before you decide on purchasing, you can do a walkthrough of their sample account. Get a great inside look at what Volgistics looks like once the database is filled with volunteer information.
Plus, you can snag a free trial of this software, too!
If you want to see everything that's included with this software for volunteer management, check out their pricing page!
Take a Look at Volgistics – One of the Best Volunteer Management Software:
The Welcome Page or Dashboard: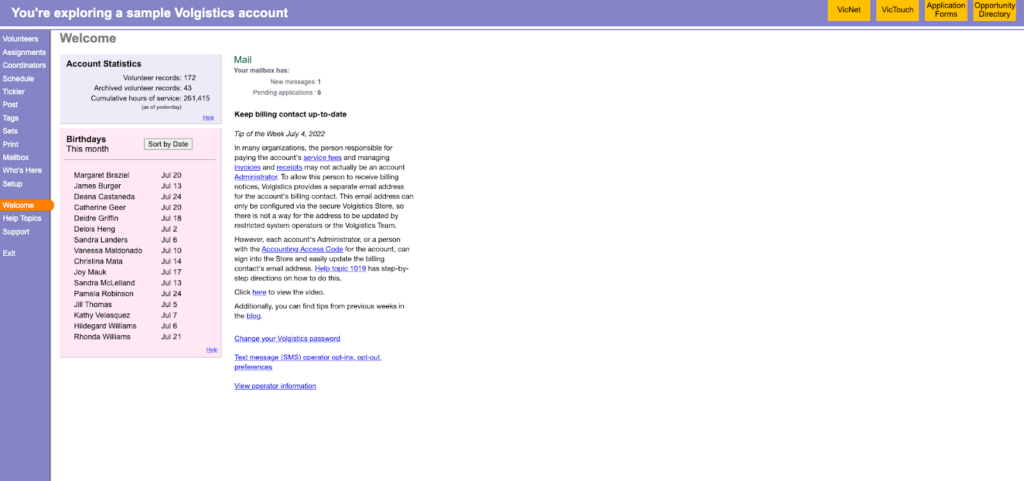 The "Welcome" page acts as your dashboard. It gives you a brief overview of any important information you need to know as soon as you log in.
That includes your mailbox and if you have any new messages. It also includes account statistics, like your current and archived volunteer records.
You'll also see an overview of upcoming volunteer birthdays, which is helpful if your nonprofit likes to do anything special for them!
The Volunteers Page: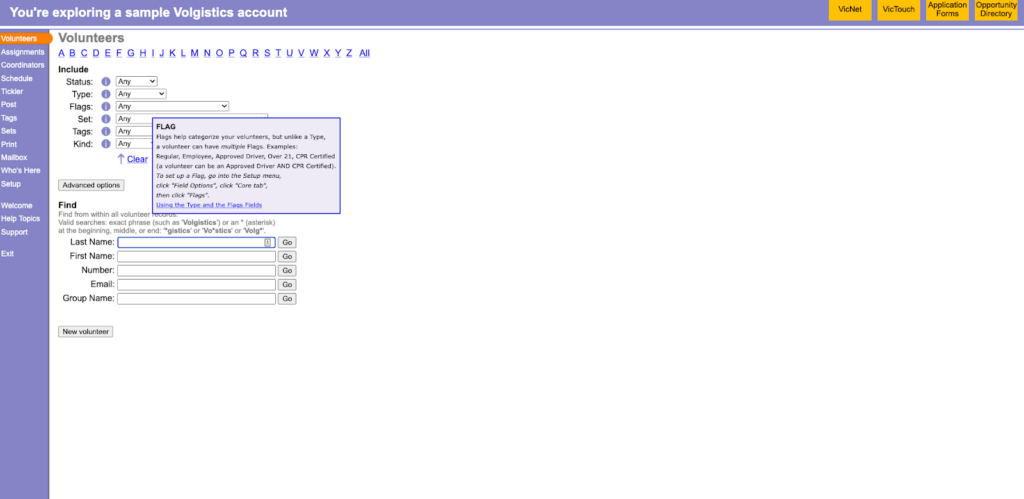 On the volunteers page, you can search your database of records to find a specific profile. You can also use an advanced search option to find records based on certain flags on the account (like if a volunteer is certified in something special).
This is also how you can enter new volunteer information into your database.
The Schedule: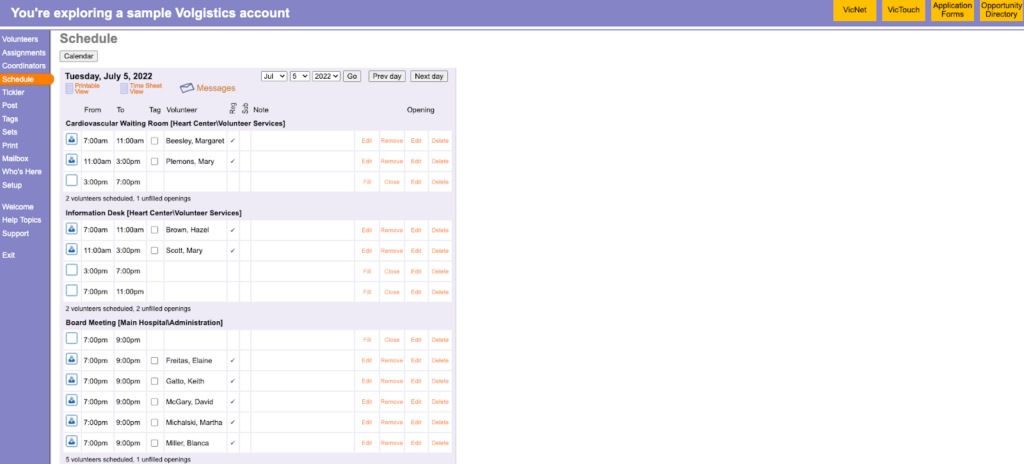 The schedule tab is where you can see both a daily view and a monthly view of your upcoming volunteer schedule.
This includes shifts you've created, whether it's for daily operational tasks or it's for an upcoming event. You'll also see which volunteers have signed up for what shifts! It lets you know how many shifts have been filled and how many are still open, too.
The Tickler: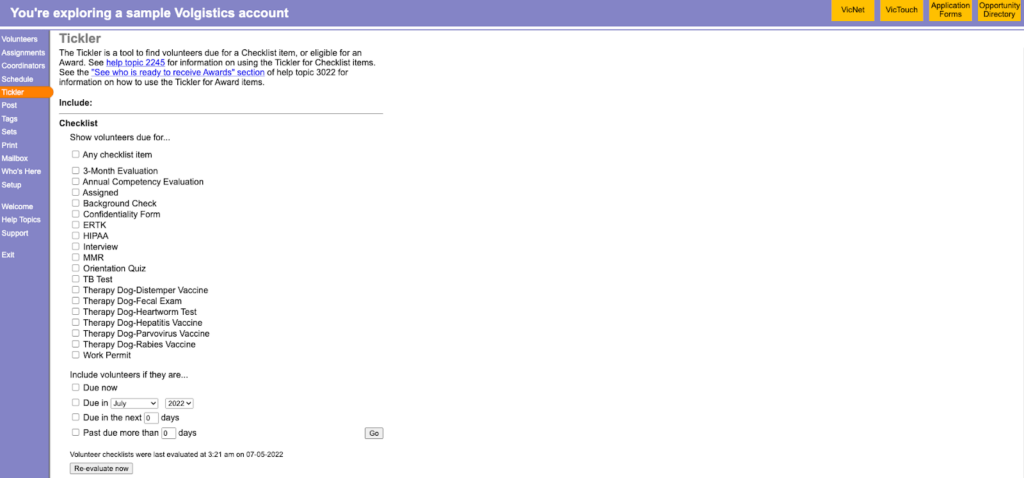 The Tickler is a unique feature in this software for volunteer management! You can use the Tickler tab to find volunteers that are due for a checklist item.
For example, if you have volunteers who are due to update their annual documents, you can search for those specific volunteer records. Or if you have new volunteers who haven't completed their orientation quiz, search for those, too!
This helps you keep track of who's done what. And that keeps all of your volunteers and the rest of your nonprofit on the same page!
You can also use this tool if you're looking to see if volunteers are eligible for certain awards. It's a great way to keep volunteers engaged and coming back time and time again!
The Mailbox: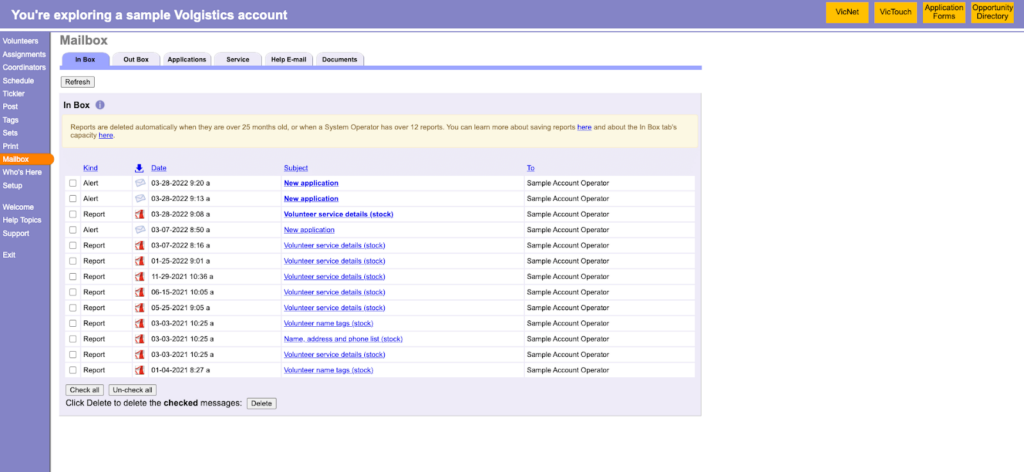 One of the features that makes Volgistics one of the best volunteer management software is the mailbox feature.
This is going to help your nonprofit team improve internal communication with your volunteers!
Your volunteers can message you about new opportunities they'd like to be a part of. This is also where you'll find messages about new applications so nothing is missed!
You can also keep in touch with your volunteers by sending out emails to them.
Who's Here Tab: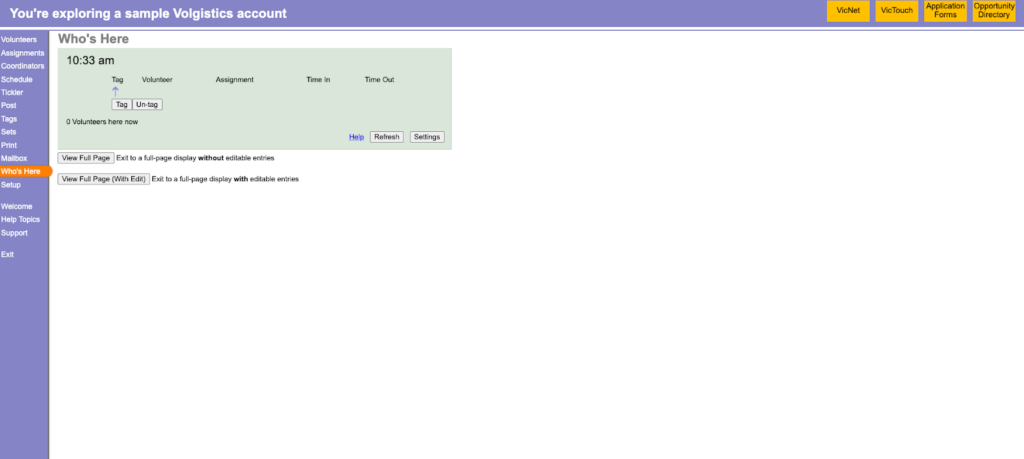 With the Who's Here tab, you can track all of your volunteers who are currently on the clock. Whether they're clocked in remotely or they're on-site, you'll have a list of names to check in on.
You can also see what time they clocked in, what time they clocked out, and what their assigned task was for the day. That makes checking on work and projects so much easier!
VicNet – The Volunteer Portal: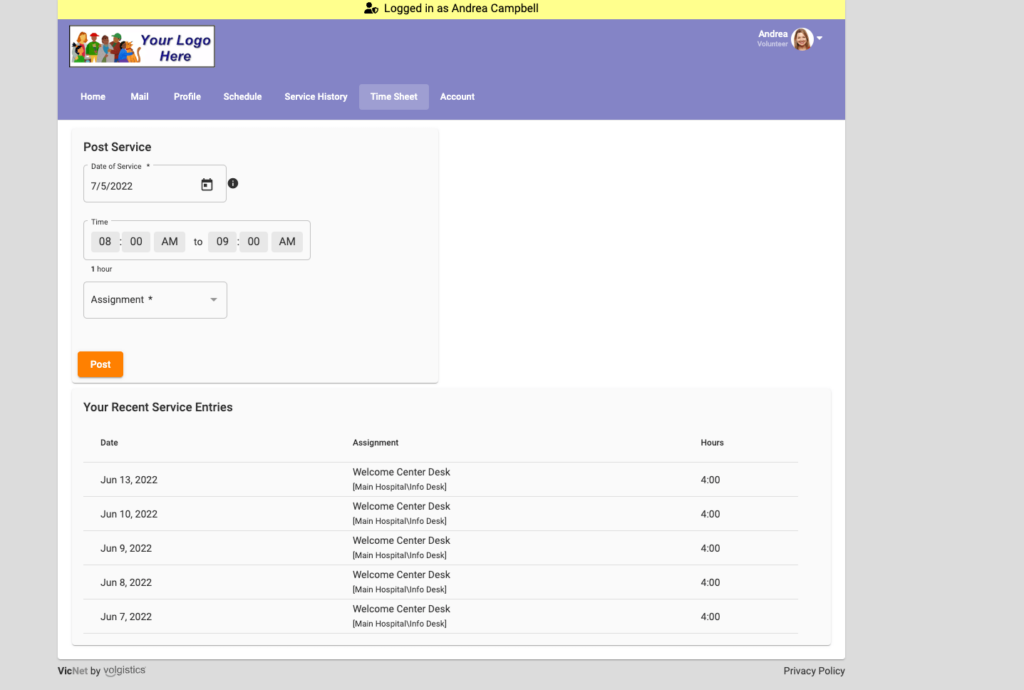 Each volunteer has their own portal they can log into. On their portal, they can see their mailbox to check for any messages from team leads.
They can also upload any documents that your nonprofit needs from them. You'll have access to these documents, too!
Under the "Profile" tab on their portal, they can update all of their personal information. That includes things like their availability, their skills and experience, and their assignment preferences. All of those features are super important for making sure you're creating an engaging opportunity for your volunteers!
And in the volunteer portal, your volunteers can see their total hours served, their timesheet, and their schedule. That reduces any friction between you and your volunteers, since they won't need to constantly check in with you for any of that information!
VicTouch – Time Clock: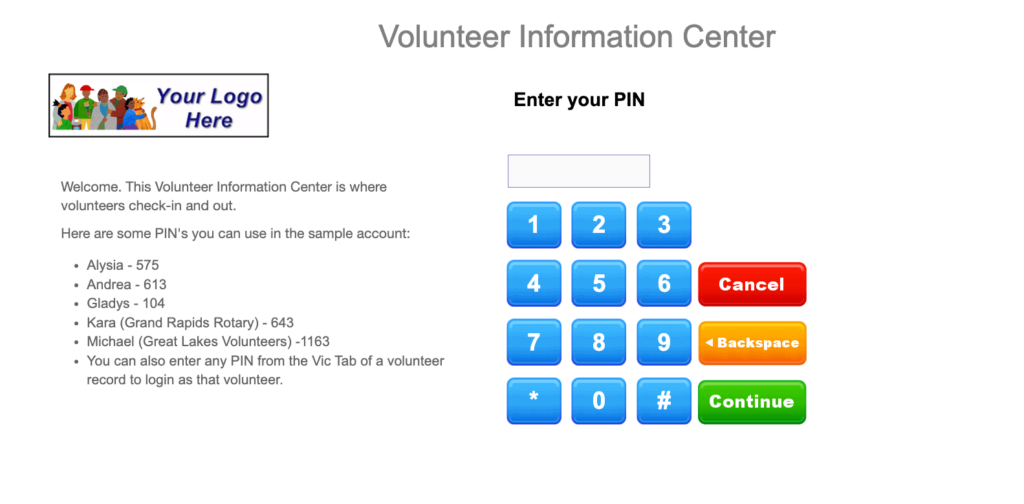 And finally, we have the VicTouch page! This is where volunteers can clock in and out of their shift directly from their Volgistics account.
No need for anyone to write down their time and give it to you. And you won't have to manually enter that information into a database.
With this software for volunteer management, your volunteers clock in and out from their portal. Then that information is automatically logged into the database.
With the many features of this software for volunteer management, it's easy to see why it's one of the most popular ones out there!
Want more related to this? Check out these posts!
5 of the Best Volunteer Management Software for Nonprofits
Improve Nonprofit Communication with 5 Tech Tools
A Quick Look at One of the Most Popular Nonprofit Volunteer Management Software