As we're sure you're aware—there's no 'crowdfunding' without the 'crowd.' Unfortunately, "Build it, and they will come" is a great concept when it comes to constructing a baseball diamond or a concert venue, but not quite the case when it comes to building the audience on your favourite digital crowdfunding platform.
So, how the heck does one build a crowd online?!
To achieve success in digital fundraising, you've got to bring in a crowd. That's great in theory, but we know you might find yourself in a situation where you have too small of a crowd or, worst-case scenario, no crowd. Luckily, you've got three options to grow: build, buy, or borrow a crowd.
We're spilling the beans on how FundRazr can help you increase the size of your crowd, helping you raise more funds for your cause! But before we get into growing your crowd, we need to first define what a Crowd is.
The Crowd part of Crowdfunding
Here are some questions you can ask yourself that will help you target the right folks and get you started.
First question: who are you trying to reach?
Answer! Each cause or project will connect with a certain demographic, or donor personas.
Want some examples? We've got 'em!
If you are crowdfunding to build a new playground in x city, folks in y city aren't going to care much unless they visit super frequently. You'll want to target the majority of people close to your cause.
If you are trying to fund something for a specific group of folks—say, hip replacements for veterans—you'll want to try to reach other veterans or friends and family members of veterans.
Maybe you're trying to raise money for your pet rat's surgery. We wouldn't recommend you target those in the extermination business.
Take some time to consider the specifics of who might want to help you out.
Q: What should you discuss with your crowd?
A: You've got to make it clear that you are bringing a specific value with your project. Maybe it's insight into tackling the problem you're trying to solve. Maybe you've got success stories to share?
Does your crowd understand what makes you and your solution(s) impactful? (If the answer is no, take some time to read through these crowdfunding success stories and what made them great!)
Q: Where are some good places to start to find your crowd?
You can find your people in multiple places online: social media and theirgroups, blogs, forums, and, ideally, your own website and social followers. This is the time to dig deep and do some major research!
Q: How can I engage my crowd?
A: You can connect with your crowd before you share your online campaign. Utilize all the tools you've got: email, newsletters, forum chats, social media posts, blog comments, even peer-to-peer engagement works.
Q: When should I share my fundraiser with my crowd?
A: ​​You should spend anywhere from 3-6 months building this crowd, depending on how fresh you're starting.
Not sure where to start, take a peek at this Complete Guide to Digital Fundraising for Nonprofits.
How Do I Get a Bigger Crowd?
Build a crowd
Now that you know the crowd that you want and have some ideas on where to find them, it's time to build up a group of supporters.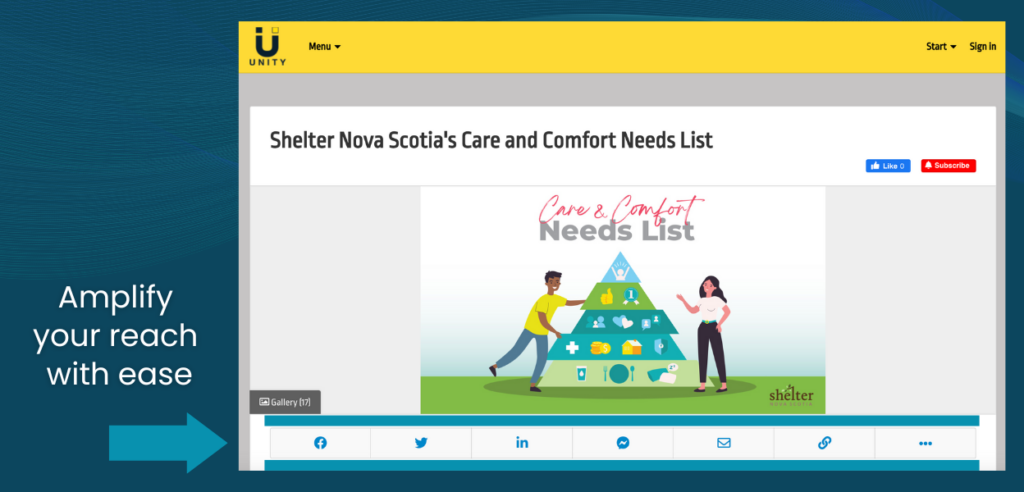 In order to build your online network of followers, focus on these three categories:
social media
website/landing page
newsletters
Starting with social media, you can create a page for your cause/organization and invite your current network, encouraging them to invite theirs. Then, use consistent content you create here to drive them to your website or landing page, which in turn will encourage them to sign up for your newsletter, which will be key in your campaign promotion.
Okay, let's slow that down.
Use Social Media to Raise Awareness
The social media channels you choose will depend on the audience you defined. For example, if your key demographics are women aged 50-65, you're going to want to get at them through Facebook.
The great thing about social media is, no matter what channel you choose, you can easily search other pages and hashtags to find relevant pages. Invite them to follow you; you can even message the page itself and ask if they'll share your cause
No matter which platform you choose (and make sure you choose more than one if it makes sense for your cause!), social media content calendars are valuable tools to help plan your posts across all platforms. It is also more efficient – sit down and spend some time planning your content to keep your crowd as engaged as possible. Canva, for example, has great tools to help with this.
DO: Make sure your social content is consistent as well as education, inspirational, and engaging.
DON'T: Post boring content without proper cadence (the number of times a week you post).
Crowdfunding is a great way to energize your community to help you spread the news about your project to their community. A well-planned campaign strategy can help you continuously grow your crowd.
Use a Website or Landing Page for Information
If you are not ready for a full website yet, consider a landing page: a simple one-page site with a single call-to-action. The goal here is to collect email addresses for newsletters.
An excellent way to entice visitors to enroll in your newsletter is to give them something. Ideally, this would be something exclusive that they cannot find on your site or social media. When they enroll in your newsletter, the first thing they'll receive is an email or link with whatever you promise. What that is will depend on what your project is.
Send your Subscribers an E-Newsletter
Your audience is already feeling warm and fuzzy about whatever it is you are offering because they followed you on socials AND they signed up on your website or landing page for your email.
Email lists will be your bread-and-butter for campaign promotion. However, pay attention: your newsletter email list MUST BE HIGH QUALITY! In everyday lingo, this means the email addresses must be real and deliverable.
If you send out an email and have multiple bounce-backs or unsuspecting recipients that report you as spam, then your sender IP reputation will be in jeopardy. Avoid that by making sure the email addresses you send to are real and have knowingly enrolled.
Plus, there's all that pesky spam legislation you should keep in mind in countries like Canada and Europe. Make sure you know who you can send mass emails to.
Psst…Here are some great non-profit-specific email marketing softwares we recommend.
2. Buy a crowd
SO, you've gone about all of the above steps, and you STILL don't feel like you have a large enough crowd. If that's the case and you have the budget, online ads can direct more visitors to your website/landing page, ideally resulting in more newsletter registrations.
If you've got a target quantity in mind, there's no shame in using paid campaigns to bulk up the rest of the crowd. You have defined your audience, so you know where they are. That will help you target the right people with a paid campaign.
This can be complicated, so we recommend reading up on paid digital advertising tactics and finding the best one for your organization's current bandwidth.
3. Borrow a crowd
Not everyone has a budget for buying a crowd! You can, however, borrow someone else's. And no, you don't have to give them back.
From your defined audience, consider who are some influencers in the field that may help you out. An influencer could be a local celebrity, media network, or internet influencer. Don't be afraid to reach out and ask for help promoting your cause.
FundRazr's Got Your Back
The most important thing to remember is that crowdfunding is a cyclical process: your current crowd, no matter how small, is going to help you grow regardless of its size.
So don't get discouraged if your crowd isn't a massive number when you first start out. Every campaign you run will continue to grow your crowd.
Keep chugging, use these tips, and be sure to check out all of the sweet resources that FundRazr has to offer.
Make sure to check out FundRazr's FREE webinar at CharityHowTo, and learn about Proven Strategies On How to Attract New Donors and Double Your Nonprofit Revenue