It's a tool for graphic designers and non-graphic designers alike. Whether you've got the degree or not, you can use this tool easily.
And it's one of the best ways to create engaging content to aid in your nonprofit visual storytelling.
Not to mention, you can create an entire brand kit for your nonprofit visual brand elements. Get everything looking cohesive so your nonprofit organization stands out! 
We're talking about Canva Pro for nonprofits. And we're discussing the even bigger question: Is Canva Pro worth it?
What is Canva Pro for Nonprofits?
Canva itself is a graphic design tool, similar to software like Adobe Photoshop. 
The difference, however, is that Canva has made itself incredibly accessible. From both pricing to what you can do on the platform, Canva is a fierce competitor to the OG Photoshop.
And if your budget is tight, you can start off with a free account on Canva.
Now, the Canva Pro option is the paid version of the platform. And with it, you'll get access to more design features like:
Templates
Stock images
Fonts
And you'll be able to create and edit videos, if you're starting your adventure into video marketing for nonprofits
One of the great things about Canva Pro for nonprofits is you also get access to the brand kit feature. That's going to help you keep all of your nonprofit branding elements in one place so you can create cohesive content every time.
Is Canva Pro Free for Nonprofits?
Here's the great news. As a registered nonprofit, you can snag a Canva Pro for nonprofits account for free. That means you get the premium features for up to 10 people in your organization for zero dollars.
You do need to apply for your Canva Pro account. And you can do that here! 
How to Use Canva Pro for Nonprofits: A Walkthrough of the Platform
Sometimes you need to see it before you can make a decision. And while you can still create a free Canva account, we're going to walk you through the tools of the platform!
The Dashboard: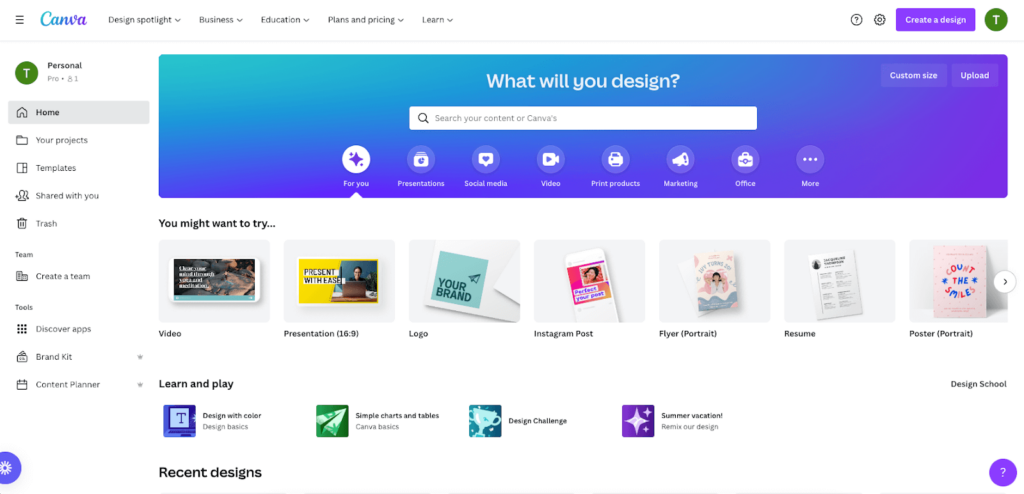 The dashboard is straightforward to use. This is the central hub for anything you want to do on the platform.
Whether you need to create a new design from scratch, you want an appropriately sized blank document, or you want to start with a template, here's where you'll choose.
You can also reach your brand kit on the navigation bar on the left with the Canva Pro for nonprofits account.
The Brand Kit:

Your brand kit is the area where you can upload all of the visual elements that are unique to your nonprofit!
Your team can add your nonprofit logos, your custom color palette, and any specific fonts you use that aren't already in the Canva platform.
This is an awesome tool that helps you keep your content looking cohesive!
And you'll find your branding elements again when you create a design – but more on that in a minute.
Templates: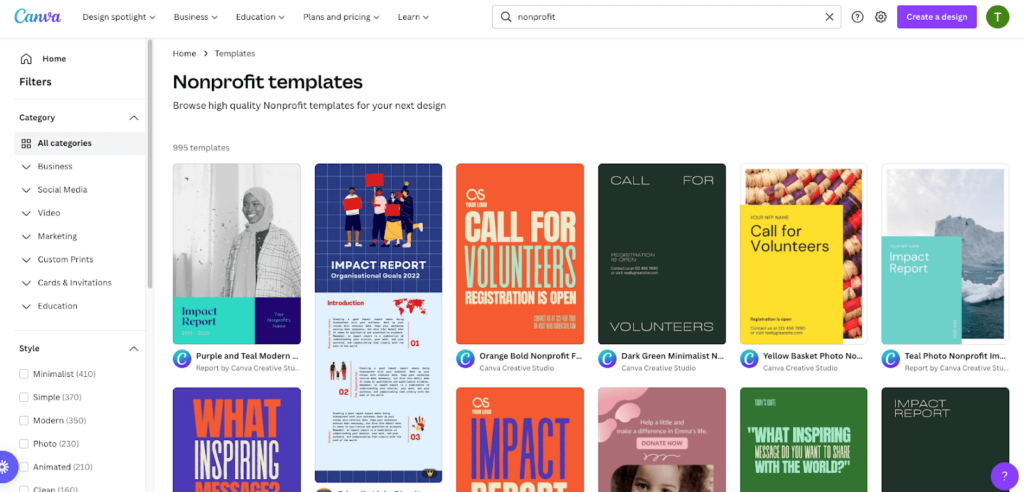 If you're not in the mood to create a design from scratch, then try using a template! The Canva library is filled with tons of template ideas already created for you.
You can click on the one you want, and it will open in the design studio. From there, you can customize the template so it matches your nonprofit. Add all the content you need, and then download it!
And you can search for all kinds of templates. Look for ones specifically for social posts or cards and invitations.
Or, search for ones that are already made for nonprofits.
There are thousands of pre-made templates ready to go!
Create a Design:
The design studio is probably going to be the area of the platform that has the biggest learning curve.
But Canva makes it super easy for you to learn. When you first load a design, whether it's a blank one or a template, you'll see the design on the center-right of the screen.
On the left of the screen, you'll have your toolbar. This is where you can add all of the visual elements to your content.
The elements tab is great for graphic illustrations, stickers, or lines and shapes.
The uploads tab is where you can upload your own photos, videos, or audio recordings.
The text tab gives you font options. You can find different font combinations to add variety and interest to your content. And if you upload custom fonts for your nonprofit, you'll see those at the top of the tab, too.
Next, the photos tab gives you access to thousands of stock images. While some are available on the free Canva accounts, you can access way more with a Canva Pro for nonprofits account. This tab also has "magic recommendations" based on the photos you've used in the past.
The styles tab is where you'll access the majority of your nonprofit branding kit elements. You can get to your custom fonts and color palettes here.
And the logos tab is where you can pull your nonprofit's logos into the content.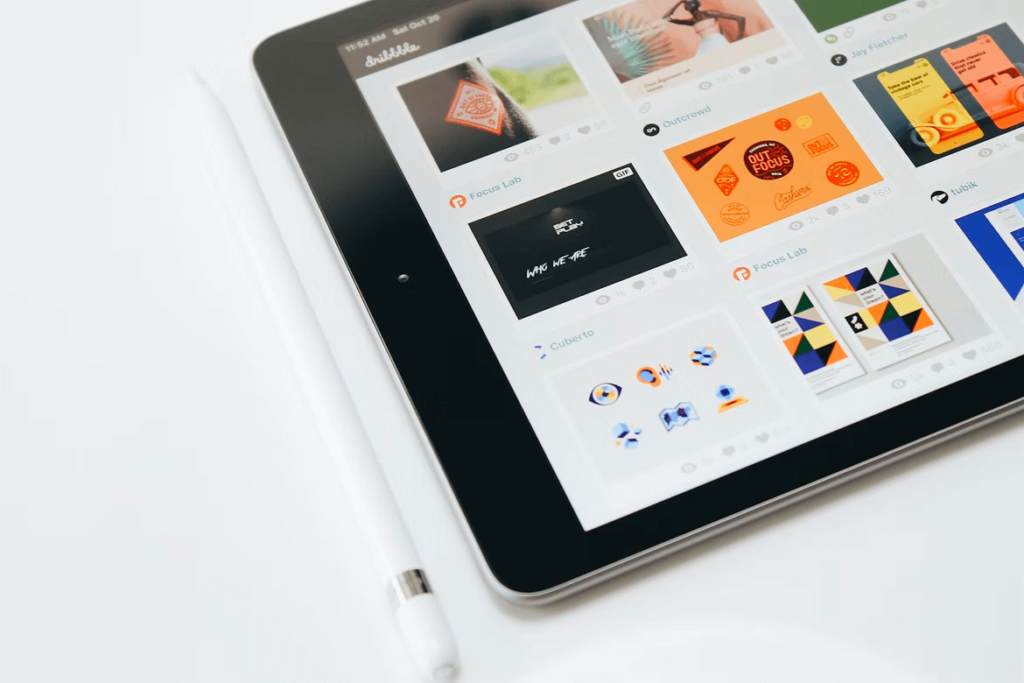 Is Canva Pro for Nonprofits Worth It?
It's great that it's free and all, but is Canva Pro for nonprofits worth it?
Here's our takeaway on that topic. From a pricing standpoint – you can't beat it (quite literally). Since it's free, you have nothing to lose when it comes to money spent.
But we do understand that it's another nonprofit software for you to learn how to use. And that takes up time and energy away from the other operational tasks you have to do in your day to day.
The great news about that is that the learning curve isn't that steep. Unlike other design tools like Photoshop, InDesign, and Illustrator, the Canva Pro software is pretty easy to learn. And there are plenty of tutorials to help you along the way.
Not to mention, if you don't want to create anything from scratch, you don't have to! You can start with a template and customize it to fit your nonprofit branding kit. 
So, if we're being honest about it, we'd say Canva Pro for nonprofits is worth it. But that comes with a small disclaimer!
Now, if your nonprofit doesn't do any sort of content creation…
Or if your nonprofit team already uses a design tool like Photoshop (and is happy with it!), then you probably don't need Canva Pro for nonprofits.
But, it's worth it if you create content for your nonprofit in some capacity, or if you're looking to start creating content. That includes:
Organic social media posts
Email lead generators
Invitations to in-person or virtual fundraising events
In-person or virtual event tickets
Letterheads for nonprofit board members
Direct mailer designs
All of those (and so much more) can be created using Canva! Want to learn more about it? Grab a seat in the free, zero-obligation training video of Canva at Nonprofit Library!