We've talked a lot about email marketing! From why it's so important to the best practices to use, we've covered it all.
And we've also talked about nonprofit email marketing software to help you get started in your marketing adventures!
But, we want to give you a closer look at one of the most popular options – Mailchimp for nonprofits.
So, let's get into it!
*PLEASE NOTE: Nonprofit-Apps is not sponsored or endorsed by Mailchimp, nor do we receive any compensation if you purchase a plan on their site. We are simply sharing information to help you make the best possible decision for your nonprofit email marketing platform.*

What is Mailchimp for Nonprofits?
Mailchimp for nonprofits is an email service provider. And that means it's a tool that's designed to help you with your email marketing efforts!
Short of writing the emails for you, this nonprofit email platform can do just about everything.
How Does This Nonprofit Email Marketing Platform Work?
Mailchimp for nonprofits handles just about everything you need for all of your email marketing adventures.
With an account, you'll snag one of the OG email drag-and-drop editors that were ever put on the market. Plus, you won't have to worry about pulling your graphic design degree out of your back pocket! Because they've integrated the "Creative Assistant" feature, which auto-populates your nonprofit branding kit into each email design.
And get ready to create a more personalized experience for your supporters (which we know leads to better marketing results!) through the power of email segmentation. You can make sure the right emails go to the right people. Send event registration reminders to past attendees. Reach out to previous donors to see if they're interested in donating again.
By the way, with Mailchimp for nonprofits, there is no doing your email marketing manually. You can set it all up for email automations. That means you can send thank you emails, receipts, and reminders automatically based on supporter actions.
Thought they were done? Nope! One of the best things about Mailchimp for nonprofits is that it integrates with so many other nonprofit tech tools. And that's going to do amazing things for streamlining your business!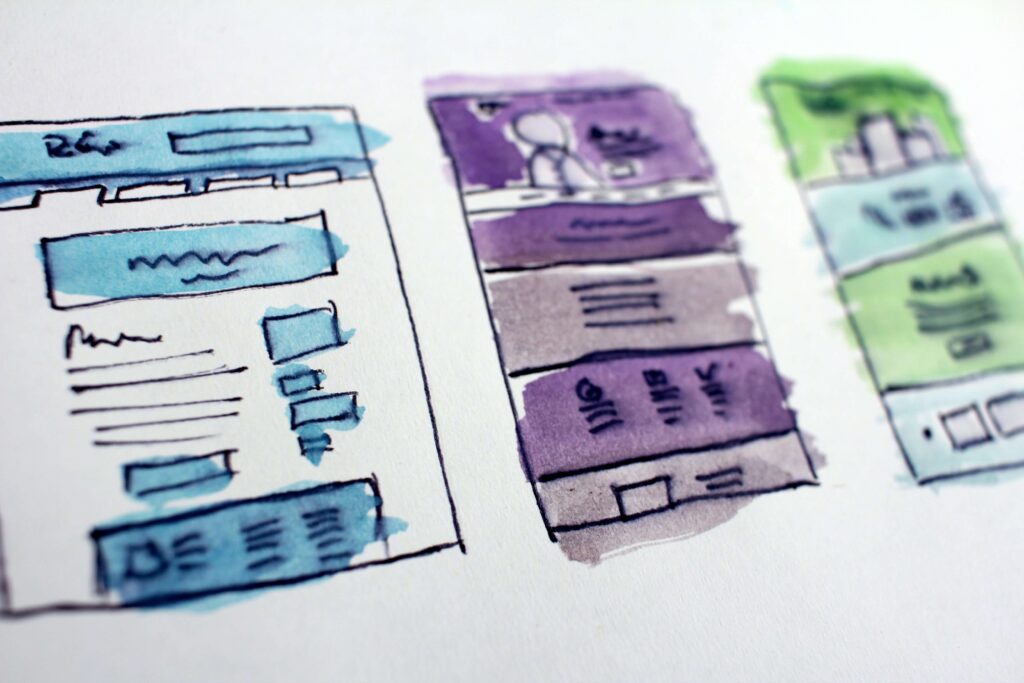 Mailchimp Nonprofit Pricing:
One of the questions we're asked most often: Is Mailchimp free for nonprofits?
In short, yes. They do have a free plan that is great for some nonprofits. It can definitely get you started if you don't have an email list yet.
The free plan will get you up to 2,000 email contacts, 10,000 email sends per month, and a daily limit of 2,000. So, if you're just starting with your email marketing for your nonprofit, then the free plan may work for you!
From there, the prices start at $11 per month based on the number of contacts you have. For every 500 contacts, the price increases on all plans.
The fabulous news is that they do have a Mailchimp nonprofit pricing discount! You can get 15% off of any plan if you're a registered nonprofit or charity organization.
A Look at Mailchimp for Nonprofits – One of the Most Popular Email Marketing Platforms for Nonprofits:
You can always get started with their free account so you can get a feel for the platform.
But we've also done that for you, so you can see it right here, too!
The Dashboard:
The dashboard is your home page once you log in to your Mailchimp for nonprofits account.
Right away, they give you recommendations on what you should do next. That includes:
Creating your first campaign
Adding your email list contacts
Launching your first campaign!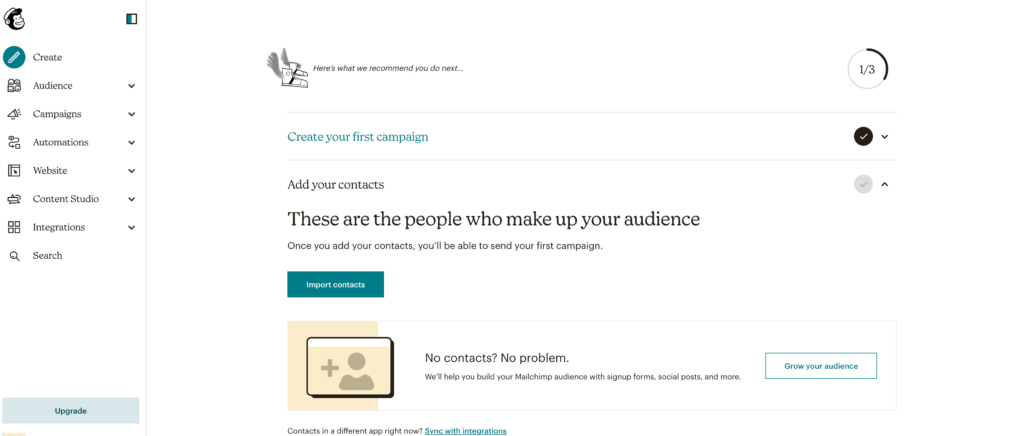 Create Your First Campaign:
Under this recommended section, they offer you three choices on how to start. That includes creating your first email, starting an automation, or creating a website.
Because yep! Having landing pages and forms? Is included in this nonprofit email marketing platform. So getting supporters signed up for your nonprofit newsletter is easier than ever!
"Here's What's Happening" Section:
Underneath the recommended first steps, you'll see a section called, "Here's what's happening." This section is important because it gives you an overview of all of your email marketing activity.
Once you start sending emails, this section will show you a broad overview of your recent email metrics! And those are important for making sure your efforts are paying off.
Create:
On the left-hand side of the screen, you have your navigation bar. Underneath the Mailchimp logo (which acts as the button for your dashboard!), you'll see the create tab.
Here's where the fun starts!
This tab houses your creator tools for your emails, your landing pages, and your embedded forms. Like a Choose Your Own Adventure book, click on whichever one you want to start with!
Regular Email:
When you click on the 'regular email" option, you're taken to a page that kind of looks like a letter. Here, you're gonna add your recipients. This option will also let you decide if you want to choose specific segments of your email list. Do you only want to send to previous donors? What about volunteers? How about past event attendees? The email is your oyster!
Adding in information like who the email is from and the subject line is as quick as clicking a simple button.
And when you're ready to design your email, you can choose from the "Classic Builder" or the "New Builder."
Each of these are drag-and-drop editors so designing emails could not be more simple. Plus, Mailchimp for nonprofits gives you plenty of templates, you don't even have to make them from scratch if you don't want to!
And don't forget! As you design your emails, you can change styles and colors so everything is on brand with your nonprofit branding kit.
Once everything is designed and to your liking, you can either send it right away or you can schedule it to go out later.
And you can do the same process for both landing pages and embedded forms!
Automations:
Under the Automations tab, you'll find your customer journeys. Sure, these were originally intended for the for-profit world. But these work just the same for your donor journeys!
You can create a journey completely from scratch. Or you can choose a templated journey to make things super simple for you. We love doing that because it's all done for you! No extra time thinking about anything.
These automations are also available for all kinds of email campaigns you might need to send out. Welcoming new supporters? There's a donor journey for that. Wanting to increase your recurring donors? There's a donor journey for that, too.
Under this tab, you'll also find all of your journeys you've saved and are using. Then you can pull from those whatever you need!
Website:
Yep, if you're looking for an in-house nonprofit CMS, then Mailchimp may be right for you! Their website builder lets you design, personalize, and launch a website for your organization all on the same platform.
And that does make things easier, especially if you're focusing heavily on email marketing.
But we do recommend reading up on nonprofit CMS options here!
Just like their drag-and-drop builder for emails, landing pages, and embedded forms, Mailchimp for nonprofits makes building a website easy, too. They use a similar approach to take all of the overwhelm out of the process.
Content Studio:
Then, we've got the Content Studio. This is an awesome tab that holds all of the graphics and designs you need to make sure your emails stay cohesive. So you can upload all of the files from your nonprofit branding kit for easy-to-snag access.
This is also home to the Creative Assistant. And this feature creates email designs for you based on your nonprofit's branding!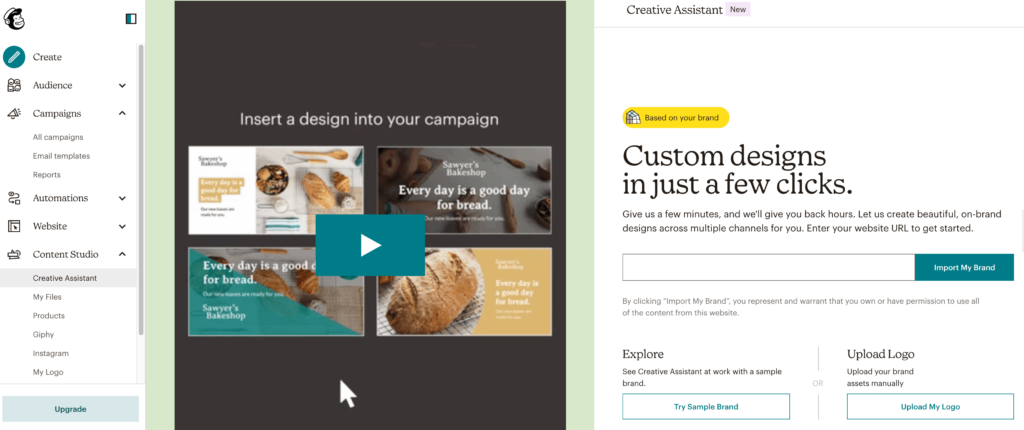 Integrations:
Finally, we've got the Integrations tab. And this handy tool is going to help you streamline all of your nonprofit technology tools you're using.
Well, maybe not all. But a lot of them!
Mailchimp integrates with major applications and software like:
Zapier,
Google Business Profile,
Instagram Content Block,
Facebook,
WooCommerce,
Squarespace,
Stripe,
WordPress,
Salesforce,
Typeform,
Eventbrite,
And so many more.
And all of those integrations mean you're not having to manually open up each tool to use them individually. Instead, Mailchimp can integrate with things like CRM tools to populate new donor profiles when someone signs up for your newsletter.
Hey-oh! That means more time back in your pocket.
It's no wonder that Mailchimp for nonprofits is one of the most popular email marketing platforms out there!
It's a user-friendly, simple platform that lets you jump right into the world of email marketing with no troubles whatsoever.
And when you're ready to create incredible email newsletters that motivate donors to give over and over again? Well, you're gonna want to check out this training at CharityHowTo!
Want more related to this? Check out these posts!
4 Best Email Marketing Software for Nonprofits to Bring In More Donations
9 Easy Ways to Build an Email List for Your Nonprofit Organization
11 Nonprofit Email Marketing Best Practices to Improve Your Strategy