We've created an entire roundup of some of the best nonprofit CRM platforms and online donation platforms available right now.
But what about a tool that combines the two?
How's that for streamlining your nonprofit organization!
That's exactly what Givebutter does. And we love it so much that we wanted to get you a better look at this free online donation platform!

What is Givebutter?
Givebutter is a completely free online donation platform that is taking the nation by storm! This powerhouse of a tool combines all of the fundraising tools you need into one single dashboard.
So no having to combine an online donation platform here with a nonprofit CRM platform over there. This platform rolls those into one!
How Does Givebutter Work?
All in one place, you can raise funds using donation pages, forms, or even events. Create all the campaigns you need to make sure your fundraising efforts are met!
Then, track your transactions, your donor contacts, recurring payments, and tickets to any events.
But wait! They're not done! Their platform lets you engage with your donors all from one place. You can integrate your nonprofit email marketing software. And you can send personalized texts and videos to your contacts! We're talking about a game-changing platform to make personalized experiences for your nonprofit supporters.
And finally! You can connect your nonprofit's bank account to transfer funds straight from your Givebutter dashboard to your organization. No middleman needed!
How Much is Givebutter?
Givebutter is a free platform to use. A standard processing fee of 2.9% + $0.30 per transaction does apply. But donors are given the option to cover those processing fees! And most of the time, donors are more than happy to do so!
Platform fees are dependent on whether you show or hide Givebutter's tipping option. If you do hide tips, there will be a platform fee: 1% for donation form, 3% for fundraising pages, and 5% for event pages.
Otherwise, there are no subscriptions, no contracts, no penalties, and no hidden fees! And it doesn't get much better than that.
** You get a free onboarding call when you activate your account above **
A Better Look at Givebutter – The #1 Free Online Donation Platform:
So what does it look like? Inquiring minds want to know! Well, we're excited to show you: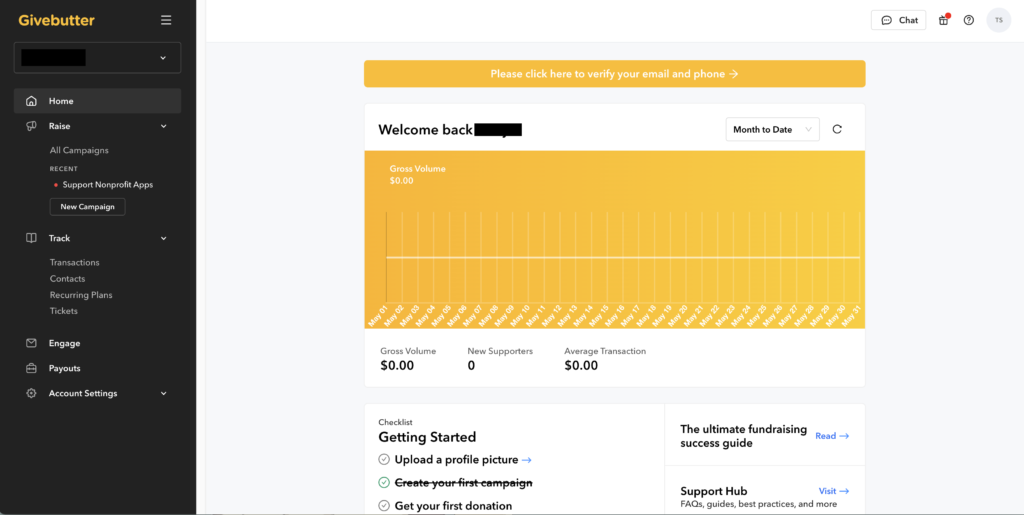 The Givebutter Dashboard:
After you create your free Givebutter account, you're taken to your organization's home dashboard. On it, you'll see an overview of your most recent donors and funds. You can change the view of it to show month to date, daily, last month, and yearly analytics.
So keep a sharp eye on what's coming into your organization!
When you first set up your account, you'll also see a checklist of how to get started with Givebutter. Plus, feel totally at ease with plenty of support from the Support Hub. And you can live chat for more personalized help.
On your dashboard (and any other screen you navigate to!), your toolbar will always be visible on the left side of your screen.
So let's look into that:
The Raise Tab:
When you click the "Raise" tab on your toolbar, a drop-down menu will show. There's a tab to show you all of your campaigns. And underneath that, you'll see your most recent campaigns.
You'll also see a button to create a new campaign! (That's where the fun happens!)
When you click "New Campaign," a pop-up will appear. You'll have the choice between creating a form, a page, or an event.
Forms:
With the Form option, you can collect donations, dues, or any other payments. And talk about plenty of payment options! Givebutter accepts Venmo, Paypal, Apple/Google Pay, and all major credit cards.
You'll see completely transparent fees. Your donors will get automatic receipts (you don't have to worry about that!).
Supporters can opt into recurring donations, too.
This is going to be the best option if you want people to donate to your mission without any frills!
Pages:
The Page option is perfect for social crowdfunding as an individual or for team fundraising. With pages, you'll get all the same features of forms! And you'll get custom donations, likes, and comments that help to boost supporter engagement. You can also choose to show a goal and timeline on your page to increase motivation.
Pages are awesome if you're looking to create a social experience for your donation campaign. It's also perfect if you want to add end dates to your campaign, a story of your project or cause, team members, and a fundraising goal.
Events:
Planning an in-person or virtual fundraising event? Then this is perfect for you! You'll get all of the features of the pages and forms. Plus, you'll get unlimited custom-branded tickets, ticket scanning, promo codes, donation upsells, and more.
Add in event details with these event pages. And sell paid tickets or give away free tickets to your event!
The Track Tab:
Underneath the "Raise" tab, you'll see a booklet icon. This is your "Track" tab. Here, you're going to find all of your analytics and donor information! This is, essentially, your free nonprofit CRM and donor database rolled into one.
In this tab, you're going to find:
Contact management
Donor data
Donation management
Importing and migrating your contact list
Segments
Ticket management for upcoming and past events
Timeline and history
Transactions:
First, you'll find the transaction page. You can manage and track all of your online and offline donations on this page. Plus, you can filter out donations from certain campaigns. So, if you're curious about one singular campaign – well, you can look at just those donations!
Contacts:
Here's where you can keep up with donor management. Your contact list is where you'll find all of your supporters!
For each contact, you can add in necessary donor information to fill out the donor database. Log phone numbers, email addresses, and mailing/billing addresses. You can also add custom notes and tags!
On their contact page, you'll also see how long they've been on your contact list. You can see their contributions, and their recurring contributions, too!
And, what's really cool is you can see a timeline of their interactions with your nonprofit!
If you ever wanted to pull individual reports on contacts, you can do that, too!
Don't forget – you can also use Givebutter's DonorSearch integration to run a wealth screen of your contacts, too. This may be helpful to figure out their capacity and their likelihood to give through the online donation platform.
Recurring Plans:
Does your nonprofit have a monthly donation program or a recurring giving plan? Well, don't worry because Givebutter has you covered on that front!
Set up recurring donations with this tab!
Payouts:
Then we have our Payouts tab on the Givebutter toolbar. No middleman, with this free online donation platform!
Your organization can connect its nonprofit bank account and withdraw funds whenever they need to.
Settings:
Finally, we have the Settings tab! Don't overlook this Givebutter tab, though. Because here's where you can set up all of the ins and outs of this free online donation platform.
About:
Give Givebutter all the details about your nonprofit organization. Add your nonprofit name (or change it, if need be). Select your timezone and even put in your tagline.
Then, put in all your social media platform details, which will help as you send out personalized emails!
Tools:
Under tools, you can turn on recurring donations and dedications if a donor wants to support in memory or in honor of someone else.
You can also put together your personalized thank you message! This is awesome to give a better overall donation experience to your supporters.
Branding:
Your nonprofit branding guide is crucial to making sure all of your fundraising efforts look and feel cohesive. And Givebutter knows that! Which is why they let you put in all of your nonprofit's branding elements.
Add in your logo, a cover photo, and your color palette here!
Integrations:
While Givebutter is one of the most incredible free online donation platforms out there, it's not the only tool you need as a nonprofit.
This tab lets you hook up all of your other awesome nonprofit tech apps! From DonorSearch to Zapier. And from Bloomerang to Google Analytics. You can connect it all to streamline your nonprofit even more.
Landing Page:
Here's where you can customize the content of your nonprofit's landing pages! Add custom content and mission statements. And enable general donations here.
It's clear to see – Givebutter is one of the top free online donation platforms you can find! And we're not the only ones who love it.
Our sister site, Nonprofit Library, loves it, too. And they've even invited a Givebutter team member to give a free training for the platform! Snag your spot!
** You get a free onboarding call when you activate your account above **